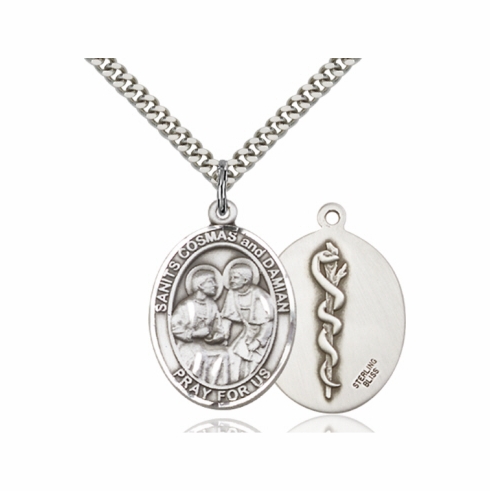 Bliss St Cosmas & St Damian Doctors Sterling Pendant Necklace
"Our jewelry is die-struck, the same way the U.S. Mint makes coins, which produces rich detail. Each Bliss medal carries a Lifetime Warranty. If for whatever reason a Bliss medal shall become tarnished, Bliss will either re-finish or replace the medal free of charge. Bliss Manufacturing Catholic Sterling Silver Patron Saint Religious Medal Jewelry
This beautiful patron saint comes in different sizes and can be personalized for that special someone. Each Christian religious medal is made in the USA and comes in a deluxe gift box. This patron saint medals are available in Sterling Silver, Pewter, Silver-filled, 14kt Gold-Filled or 14kt Gold. These medals make wonderful gifts for Communion, Confirmation, birthdays, graduations, and many other special occasions.
Available Sizes: Large 1 x 3/4 - Medium 3/4 x 1/2 Please choose medal size and chain.
Deluxe Gift Box
Chain Options
for Bliss Medals and Jewelry.
Bliss Manufacturing, a more than 100-year-old, family-owned company, makes all of its jewelry in the U.S.A. And because we make all of our jewelry, we are adding new designs daily, especially Patron Saint medals. We currently offer more than 450 different Patron Saint medals.
Our jewelry is die-struck, the same way the U.S. Mint makes coins, which produces rich detail. Each Bliss medal carries a Lifetime Warranty. If for whatever reason a Bliss medal shall become tarnished, Bliss will either re-finish or replace the medal free of charge. St Cosmas and St Damian were twin brothers from Arabia who worked together as physicians and did not accept money as payment. A patient once made Damian accept three eggs, and Cosmas stated that he would not be buried with his twin. The two were tortured and beheaded in Cyrus. Their followers attempted to bury them separately, but a camel pleaded for them to be buried together. St. Cosmas & St. Damian are the Patron Saints for Surgeons and Barbers. Memorial Feast Day: September 10.